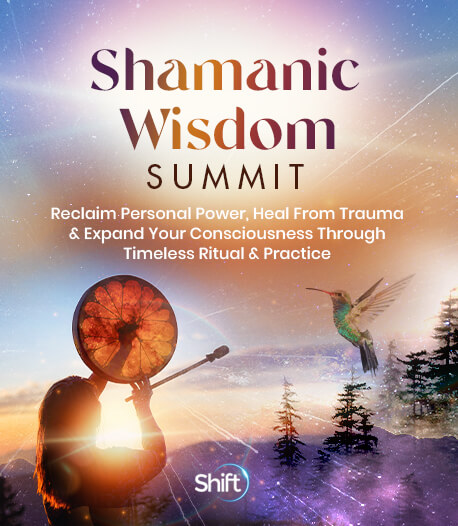 Program & Replays
Walking the Path of the Ancestors: Honouring Tradition and Legacy
Broadcast on September 15, 2022
With Jhaimy Alvarez Acosta
Hosted by Michael Stone
Indigenous teachings from both the North and the South speak of the importance of "walking in a good way." Jhaimy Alvarez-Acosta discusses how this teaching provides us with a map from the ancestors and the generations who came before us and can support us in finding our space in humanity that is grounded in Mother Earth, and connected to the cosmos. With reverence for ourselves, for each other, and for all living beings, we find our path towards "Sumaq Causay" and to a greater sense of peace and purpose in our lives.
In this session, you'll discover:
A deeper understanding of the Andean principle of Sumaq Causay — living in a good way with all of existence
How to connect and have reverence for the traditions and legacy that the ancestors have gifted to humanity
Practical tools that you can implement into your daily practice to help ground ourselves to Mother Earth and the Cosmos
The opinions expressed here are those of the author/presenter and are not representative of Shift Network employees, customers, or other presenters.
Love this Speaker and What They Have to Say?
It can be yours to keep... forever.
Get lifetime access to the summit and bonus material by upgrading now!
UPGRADE HERE
Jhaimy Alvarez Acosta
Traditional Andean Wisdomkeeper & Founder of Children of the Seven Rays
Jhaimy Alvarez-Acosta is a traditional Curandero (healer) from Cusco, Peru who has been trained and initiated in the wisdom teachings of the Andes. As a spiritual teacher and guide, he is best known for his heart-centered and humble approach to healing and spirituality. He began his initiation at a young age, apprenticing with traditional elders, and has now walked the committed path of a wisdom keeper for over 30 years.  
Through ceremony, ritual, and healing practices, he supports people in moving past their limitations in order to liberate and connect with their hearts and purpose.  Rooted in the legacy of his ancestors, Jhaimy holds a sacred space for us all to feel centered in ourselves, grounded to Mother Earth and connected to the cosmos.
Jhaimy has been invited to share his knowledge at conferences, workshops, and specialized tours throughout South America, Europe, and North America.  He holds a degree in tourism from La Universidad Andina del Cusco and has been an invited keynote speaker at several universities, including Trent University in the Indigenous Studies Program, and McGill University.
As co-founder of Children of the Seven Rays, he works with a global community offering in person and online classes, workshops, and retreats, and guides once-in-a-lifetime sacred journeys to Peru. As host of the Heart of the Condor podcast, he shares traditional teachings and the Andean cosmo-vision, while generously guiding listeners in how to walk in right-relationship with reverence for ourselves, our communities, and our world.