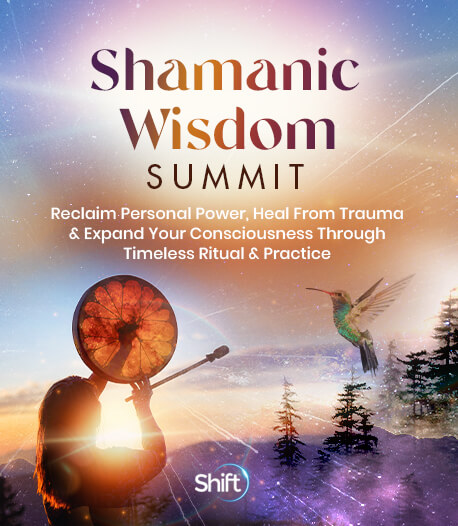 Program & Replays
Healing the Dream of Shamanism: Decolonizing Shamanic Identity, Practice, and Protocol in the Contemporary World
Broadcast on September 15, 2022
With Dr. Barbara Bain
Hosted by Dr. Marie Mbouni
Dr. Barbara Bain discusses indigenous practices, and protocols for identifying an authentic shaman. She also addresses de-colonizing emerging shamanic practices, identities, and roles, and how to perceive traditional shamanism, Neo-shamanism, and legitimate spiritual practitioners in the contemporary world. Barbara reviews the importance of dreams to the call of shamanic identity and practice, and tapping into active imagination, meditation, and prayer for connecting with one's shamanic lineage — to decolonize the personal calling to heal the self and world.
In this session, you'll discover:
The difference between a traditional Shaman, a Neo- shaman, and a spiritual practitioner
The lifelong traditional rights and responsibilities of a traditional shaman
The importance of dreams and community in identifying a shaman, informing the shamanic relationship with the sacred and inspirited worlds
The opinions expressed here are those of the author/presenter and are not representative of Shift Network employees, customers, or other presenters.
Love this Speaker and What They Have to Say?
It can be yours to keep... forever.
Get lifetime access to the summit and bonus material by upgrading now!
UPGRADE HERE
Dr. Barbara Bain
Decolonial Indigenous Psychologist & Founder of Indigenous Awakening Consulting
Dr. Barbara Bain is a decolonial, Indigenous psychologist and member of the Shasta Indian Nation of Northern California. She writes, teaches, and presents themes in the fields of Indigenous psychology, liberation psychology, and depth psychology. She specializes in dreamwork and Indigenous approaches to dreaming.
Barbara works to assist people in their personal and collective emancipation and liberation from Western structures of colonization and oppression, and has devoted her life to reconnecting human beings with dreams and visions as primary sources that show humans how to live in a balanced and conscious relationship with the material and sacred worlds. She's a certified dream tender and ambassador to the World Wide Dream Initiative, and holds a master's degree in cultural resource management, and a PhD in depth psychology.