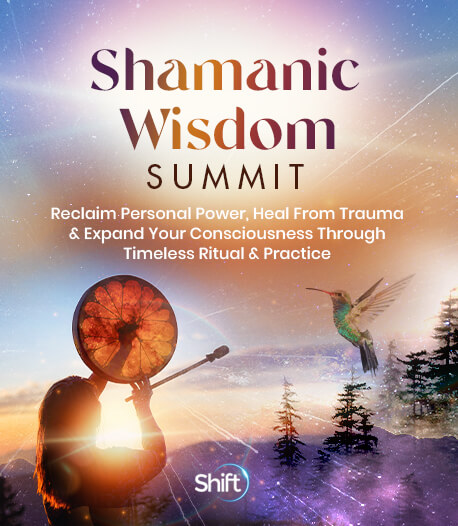 Program & Replays
A Shamanic State of Mind
Broadcast on September 15, 2022
With Ismana Carney, Ph.D
Hosted by Dr. Barbara Bain
Ismana Carney, PhD, subscribes to the view that the natural world is sacramental to the soul, and that Earth and all her life forms are inseparable at the most fundamental and absolute levels. She will lead a conversation on the cultivation of a shamanic state of mind as a way of being in the world, focused on revealing how earth-centered rituals can serve to teach and guide your way into a shamanic state of mind as you live and experience your everyday life.
In this session, you'll discover:
An understanding of a shamanic state of mind
How to cultivate a shamanic state of mind
An experiential engagement with a personal shamanic ritual
The opinions expressed here are those of the author/presenter and are not representative of Shift Network employees, customers, or other presenters.
Love this Speaker and What They Have to Say?
It can be yours to keep... forever.
Get lifetime access to the summit and bonus material by upgrading now!
UPGRADE HERE
Ismana Carney, Ph.D
Consultant, Author, Speaker, Facilitator for Earth-based Rites.
Ismana Carney, PhD, holds bachelor's and master's degrees in world history focusing on comparative world faiths with a focus on mysticism and indigenous spirituality. At Pacifica Graduate Institute she obtained her PhD in depth psychology. She has taught these subjects for several years at community colleges and Chapman University. 
She is also the author of Women's Ways with Fire: Transforming Self in the Heart of Nature, a book whose overarching content revolves around the healing power and profound efficacies of earth-based rituals as understood anciently, indigenously, and through the lens of Carl Jung's process of individuation. Most recently, Ismana published a book titled Sacred Laws, Spiritual Healing & Doctoring Songs: Interviews with Bernice Torrez, Kashaya-Pomo, that presents in historical context, the spiritual, social and cultural legacy left to her by her mother, renowned spiritual doctor of the Kashaya tribe, Essie Parrish. The archival material gathered as a result of this work is considered of such merit that it now resides in the Hearst Museum at U.C. Berkeley.
Additionally, Ismana has produced award-winning, feature length documentary films focusing on Native American cultural and spiritual traditions that have aired on several PBS stations nationwide. The overarching goal of these films has been to magnify the Native American voice, a perspective particularly missing in issues surrounding tobacco use, wildland firefighting, and the rehabilitative impact of Native American spirituality experienced by indigenous inmates in prison. These documentaries include We Pray with Tobacco... Chief Mountain Hot Shots: Firefighters of the Blackfeet Nation... and The Iron Lodge: Native American Spirituality Behind Bars. 
Over several years, as an ally of indigenous communities in California and elsewhere, Ismana has actively developed ongoing relationships with local and more distant indigenous individuals and communities. As a result, she has been invited into an ever-deepening participation and engagement with their cultural and spiritual traditions.
As one example, since 1985 she has been involved both professionally and personally with a small California Indian tribe known as the Mutsun Band of Costanoan-Ohlone in Indian Canyon, Hollister. Ismana has served the Tribal Chair, Ann Marie Sayers, as director of the ANA (Administration for Native Americans) federal grant received to pursue research, create documentation and strategically set the case for federal recognition of the tribe. Later, as voluntary education and cultural development director, she assisted Ann Marie, along with several other volunteers, to develop Indian Canyon into a dedicated ceremonial site to host indigenous communities in need of protected and private Native lands to conduct their traditional spiritual and cultural activities. Today, Indian Canyon is still thriving with several sacred ceremonial sites being caretaken and used by individual Native groups or individuals, annual indigenous cultural events, and community events.