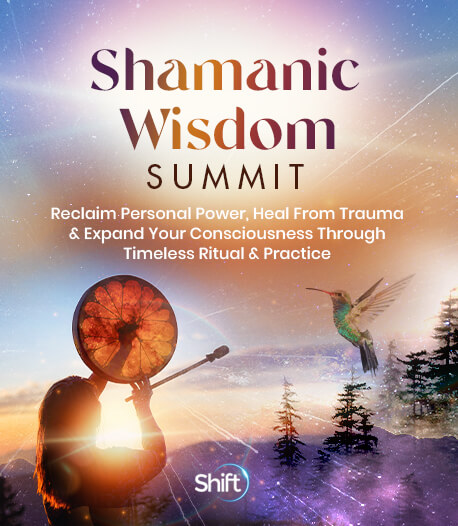 Customer Support Center
Customer Support Center
Welcome to the Shamanic Wisdom Summit Series Customer Support Center. This series is presented by The Shift Network. We're excited to offer this incredible online gathering of leading experts and inspiring teachers — and we're also passionate about providing the best support possible to our participants.
Please begin by reading through the following Frequently Asked Questions. If you don't find the answer to your question(s) in the FAQs, please scroll down and click on the appropriate support link for additional assistance.
-

Where is the Program & Replays page?
-

How do I access the series Welcome Message?
-

How do I access my free Registration Bonuses?

Your registration bonuses were emailed to you when you registered for this series. If you haven't seen them, check your spam folder or contact customer service here.
-

I need help purchasing the Shamanic Wisdom Library 2022. Who do I contact?
-

I bought the Shamanic Wisdom Library 2022. How do I access my recordings, transcripts, and bonuses?

If you've upgraded, you'll have lifetime access to your collection through your Premium Access Downloads page, where you'll find the session videos — and exclusive bonuses as they become available.


To access your collection:
Visit the Premium Access page here.
Enter your email address into the box (the email you used to register for the summit) and click the Sign In button.
If you don't see the Sign In button, you're probably already signed in. (To confirm, click on the Shamanic Wisdom Summit graphic under "My Summits & Festivals.")
Once you're signed in, you can scroll down the page to see the materials that are available.

If you haven't upgraded and want to, you can visit the Shamanic Wisdom Library 2022 page to order now.
-

Is Closed Captioning available?

Yes! The series session videos have been transcribed and have closed captioning enabled.

For permanent access to all of the series recordings with closed captioning and accompanying full written transcripts (as well as exclusive bonuses), you can purchase the Shamanic Wisdom Library 2022 by clicking here.

If you have additional questions or need further help, please submit a support request by clicking here.
-

Why does it say The Shift Network on my credit card statement or receipt?

The Shamanic Wisdom Summit is presented to you by The Shift Network. For more information about The Shift Network, and to find out more about all the programs we offer, click here.
-

How can I request a refund for my purchase of the Shamanic Wisdom Library 2022?

For the most part, our customers are very happy with The Shift Network products they buy. However, when you upgrade, your purchase is backed by our complete money-back guarantee. If, for any reason, at any time within 30 days of the date on your receipt you decide the Shamanic Wisdom Library 2022 is not right for you, just click here to request a full refund. We'll cheerfully refund your payment in full within five business days.
-

Who is The Shift Network?

The Shamanic Wisdom Summit is just one program of many produced by The Shift Network. We believe that we are one sacred family — united in our divinity and celebrating our diversity. Together, we can create heaven on earth through personal transformation and inspired action. We are all part of a wave of awakening consciousness, and we each have the power to make a real difference. Now is the time to discover and share your deepest gifts so we can evolve a peaceful, healthy, and sustainable world!

You can find out more about The Shift Network here.
-

What are the cultural and linguistic origins of the word "shaman"?

The Center for Shamanic Education and Exchange explains: "Shaman is a word derived from the Tungus word "saman" (one who sees in the dark), the German word "schamane," and the Russian word" šamán" (traditional healer). There may also be ties to the Chinese word "shamén" (Buddhist monk) and sanskrit word "srama," (ascetic, monk, devotee.) The word "shaman" has become a blanket word referring to Indiginous ceremonial leaders, medicine people, and healers. Shamanic belief systems are characterized by common attributes, such as the recognition that all things are connected, and that people can use non-ordinary consciousness to "travel" or commune with the unseen aspects of reality or spirit world in order to gain knowledge, wisdom, and power. In this way, shamanism dates back at least 40,000 years with each Indigenous culture or tribe expressing its own unique and individual cosmology and epistemology."
-

What is cultural appropriation and how is it related to this topic?

Cultural appropriation is defined by the Oxford Dictionary as "the unacknowledged or inappropriate adoption of the practices, customs, or aesthetics of one social or ethnic group by members of another (typically dominant) community or society." In other words, adopting the culture of a historically oppressed group for profit or status.

Examples of cultural appropriation related to shamanism include:
Products sold by non-Indigenous individuals, such as "smudge kits," infused waters, shamanic rattles, or ritual gift sets
Attending a "shamanic" course or retreat and presenting one's self as a shaman
Using words and phrases like "tribe" or "spirit animal" when they're not part of your culture
Adopting cultural symbols such as prints, designs, garb, jewelry, hairstyles, or decorations for aesthetic purposes when they're not part of your culture
Misusing spiritual objects such as drums, chants, crystals, and herbs
Creating a business or generating a profit from practices of another culture, such as sweat lodges, smudging, energy clearing, sacred pipe ceremonies, or shamanic training courses
-

A few resources to learn more about shamanism and cultural appropriation:
-

How is The Shift Network addressing the topic of cultural appropriation?

As a company, we are deeply committed to honoring Indigenous wisdom traditions, and to doing the healing work necessary for righting the wrongs of history and ensuring that all peoples and cultures are treated honorably.

Philosophically, we have decided to feature both Indigenous teachers as well as those of non-Indigenous ancestry who have undertaken long apprenticeships with Indigenous teachers and have contributed to cultural knowledge exchange in what we believe are helpful ways. We feel that both Indigenous and non-Indigenous people have a role to play in the larger cultural healing. We hope that inviting teachers who come from various heritages to join us on this journey will lead to greater appreciation, respect, and mutual empowerment. To unwind generations of cultural conditioning as a global community takes work, practice, and a commitment to continued learning. We are committed to this journey and appreciate the team of transformative leaders, changemakers, and heart-centered advisors who are guiding the process.
-

All other Customer Support questions:

For all other questions about this event, please click here or submit a support request by clicking here.

Thank you for visiting our Shamanic Wisdom Summit Customer Support Center!