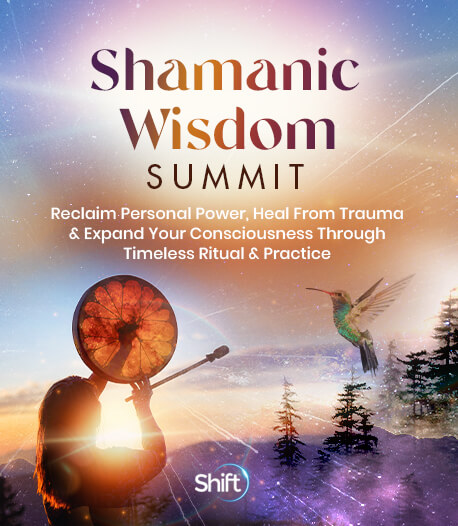 Program & Replays
Shamans Have Always Been Activists!
Broadcast on September 13, 2022
With Evelyn C. Rysdyk
Hosted by Michael Stone
Throughout time, shamans have attended to the need for balance and harmony. They have done this on behalf of individuals to create health, between individuals to solve conflict, and between humans and the natural world for the good of all beings. Evelyn C. Rysdyk shares how this is done through the work of journeys, ceremonies, and under the transcendent guidance of the spirits with whom the shaman has created strong and mutually-beneficial relationships.
In this session, you'll discover:
Reasons your own individual perspectives are not enough to "solve" problems, and why the larger view of spirit is critical
Raising harmonious energy as a way to "crowd out" that which is disruptive, causes sickness, or augments conflict
How to attend to balance and harmony within yourself as a tool for transforming the world around you
The opinions expressed here are those of the author/presenter and are not representative of Shift Network employees, customers, or other presenters.
Love this Speaker and What They Have to Say?
It can be yours to keep... forever.
Get lifetime access to the summit and bonus material by upgrading now!
UPGRADE HERE
Evelyn C. Rysdyk
Renown shamanic teacher and author: The Norse Shaman, Shamanic Creativity
Evelyn C. Rysdyk is an internationally recognized shamanic practitioner and bestselling author whose titles include The Norse Shaman: Ancient Spiritual Practices of the Northern Tradition... Spirit Walking: A Course in Shamanic Power... A Spirit Walker's Guide to Shamanic Tools: How to Make and Use Drums, Masks, Rattles, and Other Sacred Implements... Shamanic Creativity: Free the Imagination with Rituals, Energy Work, and Spirit Journeying... and The Nepalese Shamanic Path: Practices for Negotiating the Spirit World, co-written with indigenous Nepali Jhankri Bhola N. Banstola.
Along with her writings, Evelyn is an impassioned teacher and a featured presenter for global online programs and intensive courses. For more than 30 years, she's delighted in supporting people to remember their sacred place in All That Is. Whether through face-to-face contact with individual clients, her students from around the world, or through the printed word, Evelyn uses her loving humor, storytelling, and passion to open people's hearts and inspire them to live more joyful, fulfilling, and purposeful lives. 
She acknowledges that as people awaken their full selves, they are much more likely and able to make their unique contributions toward transforming our world.