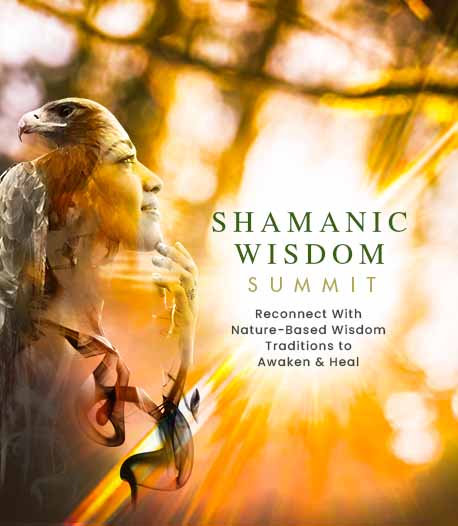 Program & Replays

Welcome Message From Your Series Co-Hosts
With Michael Stone & HeatherAsh Amara & Shawna Bluestar Newcomb
Michael Stone: Hello, everyone. Welcome to the Shamanic Wisdom Summit series. This is one of your hosts, Michael Stone. I am blessed to be here with Shawna Bluestar and HeatherAsh Amara. We are the co-hosts of this series. It's been seven years since we started this. I'll just tell you about one of the people that I interviewed, Fredy Puma Quispe. I was with him and he was sitting on top of a mountain in Peru doing ceremony and I could literally, it was so powerful, I could actually smell the Palo Santo. We have so many other people. I'll let Shawna Bluestar tell you about some of the people that she interviewed.
Shawna Bluestar: Thank you, Michael. It's so good to be here with all of you and good to be here with HeatherAsh. I'm so happy to invite elders that are part of my community. I'm really excited to share wisdom from elder Dave Courchene from Turtle Lodge Anishinabe nation. He speaks to the prophecies and living in these times that we're in as well as Sherri Mitchell from her nation of Penobscot. I love that she shares from her book, The Sacred Instructions, there's a lot of wisdom there, as well as Reverend Deborah Johnson who many of you may know and Winona LaDuke, my father, Steven Newcomb, and Grandmother SaSa. There's just so much wisdom here. It's such an exciting time. And HeatherAsh, who else do you have?
HeatherAsh Amara: Thank you, Shawna. I was really honored to get to interview again Diane Longboat and my dear friend Don Jose Ruiz, who's talking about power animals, and Great-Grandmother Mary Lyons. If you've had the chance to hear her you know what an incredible heart this woman has. Also some new speakers. All of us are bringing in both a mixture of the favorites from previous years and some new speakers. Queen Mother and Qi Dada shared about the Vodou tradition and the power that this ancient tradition has and how to really respect the ancestors and the elders come through us. Also Michelle MacEwan and my dear compadre, Jorge Delgado. We so look forward to sharing these interviews with you. Please join us for this year's Shamanic Wisdom Summit series. There is an incredible amount of wisdom and heart that these Wisdom Keepers are bringing through. We hope to see you there.
Michael Stone
Author, Teacher, Mentor, Shamanic Practitioner & Integration Facilitator
Michael Stone is a spiritual author, mentor, shamanic practitioner, radio host, producer, and trauma integration facilitator who co-creates individual and group environments and experiences that support people in transcending the myth of separation, and experiencing deep and profound interconnection with others and all of life. He has been teaching and leading experiential events, classes, teleseminars and workshops on Organizational Development, Embodied Shamanism, Moving Meditation, Personal Growth, and Spiritual Fulfillment for over 40 years.
HeatherAsh Amara
Author of Warrior Goddess Training & Warrior Heart Practice; Love Revolutionary
HeatherAsh Amara is the Warrior Goddess Mama and Creatrix of the Warrior Goddess Training series, including The Warrior Heart Practice. She is dedicated to supporting people in developing their self-intimacy, steadiness, and stillness by sharing the most potent tools from a variety of world traditions. Raised in Southeast Asia, HeatherAsh has traveled the world from childhood and is continually inspired by the diversity and beauty of human expression and experience. She brings this open-hearted, inclusive worldview to her writings and teachings. She can often be found covered in adobe mud on her ranch, dancing around the fire, and deepening into the Mystery.
Shawna Bluestar Newcomb
Visionary Healer, Spiritual Guide, Creator of Two Online Courses
Shawna Bluestar Newcomb (Shawnee, Lenape, Azteca) is opening hearts and minds across the world, sharing ancient wisdom for modern times as speaker, visionary and spiritual guide. Her profound universal messages offer clarity and peace for these times of uncertainty and change during "The Great Shift." Shawna guides seekers and changemakers to navigate the new paradigm by opening to their authentic power, intuition and unique genius. She is creator of two online courses, The Reverence Code Reset: Changemaker's Course and Sacred Feminine Rising. Shawna collaborates with her father, leading a global movement for conscious change. She reveals hidden history behind our common wounds and collective trauma as a result of the Domination Code. As a way forward, Shawna offers insights from her teachings of The Reverence Code, based on ancient and Indigenous knowledge. Shawna is dedicated to a vision of healing for all peoples, the planet, and future generations.